Posted by dOk | Filed under 2011
2011 release, the first conceptually-based album from The Roots. Undun quickly reaffirms the creativity of the outfit that are notorious for pushing the envelope. The album's first single is "Make My" featuring Big K.I.R.T. Undun is an existential re-telling of the short life of one Redford Stephens (1974-1999). Through the use of emotives and Redford's internal dialogues the album seeks to illustrate the intersection of free will and prescribed destiny as it plays out `on the corner'. Utilizing a reverse narrative arc, the album begins as the listener finds Redford disoriented–postmortem–and attempting to make sense of his former life. As he moves through its pivotal moments he begins to deconstruct all that has led to his (and our own) coming undun.
For more info and buy check: www.islanddefjam.com
320kbps quality.
Tracklist
01. Dun
02. Sleep
03. Make My (feat. Big K.R.I.T. & Dice Raw)
04. One Time (feat. Phonte & Dice Raw)
05. Kool On (feat. Greg Porn & Truck North)
06. The OtherSide (feat. Bilal & Greg Porn)
07. Stomp (feat. Greg Porn)
08. Lighthouse (feat. Dice Raw)
09. I Remember
10. Tip The Scale (feat. Dice Raw)
11. Redford (For Yia-Yia & Pappou)
12. Possibility (2nd Movement)
13. Will To Power (3rd Movement)
14. Finality (4th Movement)
link removed RAPIDSHARE
link removed MEDIAFIRE
Posted by dOk | Filed under 2011, Instrumental
Some (old?) stuff from Dibiase, enjoy!
Tracklist
01. Sunrise (Intro)
02. Dreamscape
03. Viewfinder
04. Weekendz
05. Lo-fi Crust
06. Swingshift
07. Sun Rays
08. Say Word
09. Intermission
10. Top Notch
11. Footprints
12. On Standby
13. Paradise
14. Gold Mine
link removed RAPIDSHARE
link removed MEDIAFIRE
link removed ZIPPYSHARE
Posted by dOk | Filed under 2011
Georgia Anne Muldrow is a singer, producer, songwriter bornd and raised in Los Angels, California. New album "Owed To Mama Rickie" is dedicated to her mom, Rickie Byars Beckwith, this album returns GAM to her spiritual roots without sacrificing the funk of her now infamous signature sound.
For more info and buy check: www.animatedcartunes.com
Tracklist
01. Zulu (The Mind)
02. Dr. Feelgood
03. Ez Duz It
04. Mother, Father, God
05. The Jump Rope Song
06. All in All
07. More & More (feat. Bilal)
08. The Key
09. Love Letter
10. Whollyspirit
11. Dubby Time!
12. Moonsong Lullabye
13. More & More (Remix) (feat. Bilal)
link removed RAPIDSHARE
link removed MEDIAFIRE
link removed ZIPPYSHARE
Posted by dOk | Filed under 2011, Rap USA
Talib Kweli & Yasiin Bey are Black Star. "You Already Knew," produced by Oh No, is the first song off 'Black Star Aretha,' the group's tribute to the legendary singer, Aretha Franklin.
link removed (right click and save)
Posted by dOk | Filed under 1961, Jazz
When Art Blakey's Jazz Messengers expanded to a sextet with the addition of Curtis Fuller on trombone, the group took on the character of a small big band propelled by Blakey's forceful drumming. Buhaina's Delight, another session in the long line of great Blue Note dates from this period, displays that classic line-up in pristine form. With Freddie Hubbard replacing Lee Morgan, Cedar Walton replacing Bobby Timmons and musical director Wayne Shorter, the Messengers were full of fresh sounds and vibrant with energy.
Uncharacteristically for a Messengers session, the relaxed shuffle "Backstage Sally" opens the disc in a laid back groove. Shorter's brilliant playing is featured prominently on this session on the delicate ballad "Contemplation" and many stunning solo spots. The title track (dubbed for Blakey's Islamic name, Buhaina) and a dynamic arrangement of the standard "Moon River" are excellent examples of the classic Messengers sound: challenging horn arrangements, expressive soloing and assertive drumming by the leader. Also included on this set are bonus takes of all but two of the original tunes. For any Messengers fan, this is a delightful package, indeed.
Personnel: Art Blakey (drums); Jymie Merritt (bass instrument); Wayne Shorter (tenor saxophone); Freddie Hubbard (trumpet); Curtis Fuller (trombone); Cedar Walton (piano).
Tracklist
01. Backstage Sally
02. Contemplation
03. Bu's Delight
04. Reincarnation Blues
05. Shaky Jake
06. Moon River
07. Backstage Sally (Alternate Version)
08. Bu's Delight (Alternate Version)
09. Reincarnation Blues (Alternate Version)
10. Moon River (Alternate Take)
link removed RAPIDSHARE
link removed MEDIAFIRE
link removed ZIPPYSHARE
Posted by dOk | Filed under 1970, Jazz
Blackstone Legacy is the first instance of Woody Shaw stepping into the position of bandleader in the recording studio, something long overdue at the time. With a handpicked ensemble, Shaw was given total creative freedom, and the result is a landmark. His intention was to portray various sociopolitical dramas then being played out, from the ghettos of his youth to the war in Vietnam. That intention is clear in the complex energy exchanged between the horns and in Lenny White's driving, polyrhythmic drumming.
Compositions by Shaw, such as the title track, are alive with urgency and exploration. His trumpet is warm and fierce as ever and sparkles with all his influences, from Clifford Brown to Lee Morgan. Keyboards player George Cables contributes two fine tunes, "Think On Me" and "New World"; the latter builds from its slow, emotional intro into a funky, rock & roll energy, perfectly reflecting the charged political climate of the early '70s. Blackstone Legacy was a bold step forward.
Personnel: Woody Shaw (trumpet); Bennie Maupin (flute, bass clarinet, tenor saxophone); Gary Bartz (soprano saxophone, alto saxophone); George Cables (piano, electric piano); Lenny White (drums).
Tracklist
01. Blackstone Legacy
02. Think On Me
03. Lost and Found
04. New World
05. Boo-ann's Grand
06. A Deed for Dolphy
link removed RAPIDSHARE
link removed MEDIAFIRE
link removed ZIPPYSHARE
Posted by dOk | Filed under 2010, Jazz
Elizabeth Shepherd is among Canada's most promising young talents and she has the widespread critical acclaim to prove it. Heavy Falls the Night takes the listener on an unpredictable musical ride. It's hard to pick a favourite track from such an eclectic album but, depending on your taste, it could be the dancefloor ready Seven Bucks, co-produced by Japanese mixmaster DJ Mitsu The Beats (Dwele, Jose James), and inspired by an NFB documentary. Or it could be The Taking – Shepherd's powerful tribute to the women who came before her – knocked out in Jazz 11/8 time. Or maybe it's the supremely soulful reworking of Anne Murray's 70s soft-rock radio staple Danny's Song, one of the few secular songs that made it past the gatekeepers in Shepherd's Salvation Army childhood home.
Elizabeth's rhythmically intricate, groove-oriented tunes, sincere lyrics and distinct, soulful voice have earned her a worldwide following, and her fans will certainly not be disappointed by the explorations on this new record. Critics, hipsters and music aficionados from London to Tokyo have been spreading the word for a few years now, and will surely continue to embrace her music. But more importantly, with Heavy Falls the Night, Elizabeth Shepherd is destined to reach music lovers everywhere.
For more info and buy check: www.elizabethshepherd.com
Tracklist
01. What Elese
02. The Taking
03. Heavy Falls The Night
04. Numbers
05. Seven Bucks
06. One More Day
07. A Song For Dina Washington
08. High
09. It's Coming
10. On The Insufficiency Of Words
11. Danny's Song
link removed RAPIDSHARE
link removed MEDIAFIRE
link removed ZIPPYSHARE
Posted by dOk | Filed under 2011, Funk
The original Incredible Bongo Band's "Bongo Rock" is firmly cemented into musical history having provided the oft sampled (and completely irresistible) "Apache" drum break for a million and one producers to cut up. Also known as Michael Viner's Incredible Bongo Band, the project was born in 1972. Viner, a record artist manager and executive at MGM Records, was making use of MGM recording facilities in down-time, recruiting whichever studio musicians were on-hand. Ringo Starr is rumored to have played on some tracks. They made two albums of funky, instrumental music filled with covers of popular songs of the day and heavily relying on bongo drums, conga drums, rock drums and brass.
Over 3 decades after its inception UK producer, and avid record collector, Shawn Lee was marveling at the fact that there had never been an Indian style, sitar and tabla-heavy, version of the Incredible Bongo Band masterpiece "Apache." "Such an obvious track, I still find it hard to believe that one doesn't already exist. (It is hella' obscure if it does…) "Apache" is one of the greatest and most famous drum-breaks of all time," says Lee. Not content with covering just "Apache," Lee decided he'd take on the entire Bongo Band debut album; and also two of his favorite tracks from their second album for good measure. "Why cover a song when you can cover a whole album? This is the road to madness my friend, and it is my preferred route!" he adds.
For more info and buy check: www.ubiquityrecords.com
Tracklist
01. Let There Be Drums
02. Apache
03. Bongolia
04. Last Bong In Belgium
05. Dueling Bongos
06. Inna Gadda Da Vida
07. Raunchy '73
08. Bongo Rock
09. Sing Sing Sing
10. Pipeline
link removed RAPIDSHARE
link removed MEDIAFIRE
Posted by dOk | Filed under 2011, Instrumental
Good track from Question, enjoy!
Posted by dOk | Filed under 2011, Electronic
A graduate of Red Bull Music Academy 2010/London, the Toronto-born singer has been making waves for a while, her collabs list reads like a who's who of contemporary producers: Mau'Lin, fLako, kidkanevil, Om Unit, Clinic, Lost Twin & Throwing Snow. Her stunning voice is what first grabs you but it's her skill in choosing music, transforming it into something distinctly her own that sets her apart.
Tracklist
01. Maybe A Dream
02. Sticky
03. Eleutherios
04. Come Around
05. Stormy Weather
link removed RAPIDSHARE
link removed MEDIAFIRE
link removed ZIPPYSHARE
Posted by dOk | Filed under 2011, Instrumental
Dexter is re-visiting some super classic breaks and a certain Mayer. Originally made for the Beat Battle in Duisburg earlier this year, which Dexter won. Due to popular demand we are now sharing some extended versions of his winning beats via a limited 7" single.
Tracklist
A1. Gimme No More (Psycho Theme)
B1. Lautinus
B2. Saybe Mo, Naybe Mo
link removed RAPIDSHARE
link removed MEDIAFIRE
link removed ZIPPYSHARE
Posted by dOk | Filed under 2011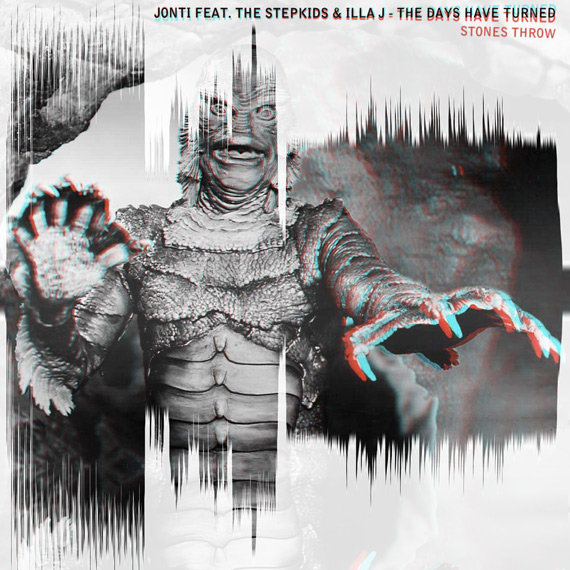 Exclusive track from Jonti featuring The Stepkids & Illa J, unmastered, straight from the lab.
Posted by dOk | Filed under 2011, Hip Hop
Track from Grap Luva's upcoming release "Neva Done" (11/22, Redefinition Records / SOS Records), Produced by Grap Luva AKA The Younger Soul Brother Mixed, Recorded & Arranged by Damu The Fudgemunk.
Posted by dOk | Filed under 1960, Jazz
With a strong, smooth tone and an amazing flow of fresh ideas every time he soloed, tenor saxophonist Tina Brooks should have been a major jazz artist, but his legacy is confined to a series of dates that he did for Blue Note as a sideman and leader. "True Blue" is the only album under his own name to come out in his lifetime. He and Freddie Hubbard had recorded Hubbard's "Open Sesame" a week earlier. Based on these two albums alone, Brooks should have been recognized as an important new voice in jazz. This CD adds to two alternate takes to the original LP.
Personnel: Tina Brooks (tenor saxophone); Tina Brooks; Sam Jones (double bass); Freddie Hubbard (trumpet); Duke Jordan (piano); Art Taylor (drums).
Tracklist
01. Good Old Soul
02. Up Tight's Creek
03. Theme For Doris
04. True Blue
05. Miss Hazel
06. Nothing Ever Changes My Love For You
07. True Blue (Alternate Take)
08. Good Old Soul (Alternate Take)
link removed RAPIDSHARE
link removed MEDIAFIRE
link removed ZIPPYSHARE
Posted by dOk | Filed under 1967, Jazz
The title of A New Conception refers to Sam Rivers' ingenious interpretations of standards on this record. Rivers treats the songs — such familiar items as "When I Fall in Love," "I'll Never Smile Again," "That's All," "What a Difference a Day Makes," and "Secret Love" — with respect, but he doesn't treat them as museum pieces. He knows that if the songs are to remain fresh, they need to be heard in different ways, and he skillfully opens up each composition to contemporary avant-garde techniques. Rivers and his supporting trio of pianist Hal Galper, bassist Herbert Lewis, and drummer Steve Ellington gradually ease each number into more adventurous territory, slowly shifting into exploratory instrumental sections, slyly varying the melodic themes, or adding shaded dissonant textures. It's challenging music that remains accessible, since it reconfigures familiar items in new, intriguing ways. The sheer skill in Rivers' arrangements once again confirms his large, unfortunately underappreciated, talent.
Personnel: Sam Rivers (tenor and soprano saxophone, flute), Hal Galper (piano), Herbie Lewis (bass), Steve Ellington (drums)
Tracklist
01. When I Fall In Love
02. I'll Never Smile Again
03. Detour Ahead
04. That's All
05. What a Difference a Day Makes
06. Temptation
07. Secret Love
link removed RAPIDSHARE
link removed MEDIAFIRE
link removed ZIPPYSHARE
Posted by dOk | Filed under 2011, Funk
The Fantastics! first began to take shape in 2003 after organist/pianist Greg Boraman departed the ranks of the acclaimed deep funk outfit The Soul Destroyers (Jazzman Records) and answered the call to fill the keyboard seat in Reverend Cleatus & The Soul Saviours, the previous incarnation of the band that released their debut album 2LBs Of Funk on French label Soul Cookers Records.
Whilst the band indeed loved heavy funk with a passion, they also wanted to incorporate other styles that had shaped their open minded musical lives: jazz, Brazilian, afrobeat, rhythm & blues, rock, boogie, latin, reggae: the full spectrum of influences which each musician individually brought to the table! Finding that they soon tired of the narrow and formulaic restrictions that the purely retro funk genre saddled them with, and a new plan began to come together.
Changing their name to The Fantastics!, they re-launched with the Cheeba's Couch 45 (on Raw Wax), an aggressive funk-rock assault to highlight a deliberate widening of musical textures and influences the band were eager to explore.
Now in 2011, The Fantastics second album is another step in the London band's long musical journey. The musical transition continues on All The People which features vocalist Sulene Fleming on several tracks, one of the UK's most versatile and capable singers of her generation! Add to this great musicianship and strong original compositions such as Somewhere Finally, the shimmering and beautiful summer love song that drips with deep soulful, horn hook lines, and of course Sulenes' soaring vocals, the moody and atmospheric Know No Gods, the southern blues inflected groove of Cold Case and the full on, strident funk-rock grit of I Breath all demonstrate how The Fantastics! have finally arrived at their musical destination with a highly eclectic sound for today which pays respect to the past without being shackled to it.
For more info and buy check: www.thefantastics.co.uk
Tracklist
01. Mushroom Strut
02. Swwetback
03. Somewhere …Finally featuring Sulene Fleming
04. All The People Part 1
05. No Right Turn
06. Know No Gods
07. I Breathe featuring Sulene Fleming
08. The Bone Breaker
09. Cold Case featuring Sulene Fleming
10. Cecils Slide
11. All The People Part 2
link removed RAPIDSHARE
link removed MEDIAFIRE
link removed ZIPPYSHARE
Posted by dOk | Filed under 2011, Electronic
The first compilation from FreeForm features some of the freshest and most innovative talent in the worldwide beats scene. From the jazz infused production of Jesse Futerman, to the post-Dilla swagger of Fitz Ambro$e: Waveform documents the diversity and ever evolving sound of instrumental beats. Guests Include: RLP, Called Understandable Souls, Sir Froderick, Ta-Ku, Jesse Futerman, Chris Are, Repeat Pattern, Haz Solo, Infinite Potentials, RLP, Somepling, Innobushu, Sport G, Kan Sano, Proflogik, Fitz Ambro$e and more……
For more info and buy check: www.freeformrecords.com
Tracklist
01. Ta-Ku – Lighter
02. 3LLL – Indigo Principle
03. Called Understandable Souls – Could Not Find You
04. Fantastikclick & SPORT G – Channel 8
05. As Valet – Collision
06. Chris Are – Greenwon
07. Fitz Ambro$e – Kassie
08 RLP – Minovsky Physics
09. Haz Solo – Fisher Price
10. Kan Sano – Fonce's Sky
11. Repeat Pattern – All The Heads
12. Mind Touch – LeT'M Do
13. Jesse Futerman – Dawn Wawn
14. Somepling – Eightbars Kaffra
15. K15 – Alone / Together
16. Mndsgn – Peasfol
17. Innobushu – Kombucha
18. ProfLogik – DrEaM sEqUeNcE
19. Sir Froderick – Sittinlonely88
20. Infinite Potentials – Happy Head Nods
link removed RAPIDSHARE
link removed MEDIAFIRE
link removed ZIPPYSHARE
Posted by dOk | Filed under 2011
Who are BadBadNotGood? Well.. 3 guys from Canada with a lot of passion of hip hop i guess, a few days ago they released this jazz medley of Doom which is pretty damn good! check bandcamp for more > badbadnotgood.bandcamp.com
Posted by dOk | Filed under 2011, Electronic
BEAT.IT is a project focussing on an exciting musical movement.
The compilation we put together features tracks from a number of Italian underground producers, with musical genres ranging from funk to abstract, and including some of our most interesting and contemporary experimental sounds.
The project is a collaboration of Error Broadcast, Made in Glitch and ReddArmy, with the support of Get Beat, Homework Records, Il Vinilificio, Laid Back, Overknights, PTW School, Sentire Ascoltare, Snob Production and Snowy Peach.
Mastering by MattB at Made In Glitch Studios
Enjoy the beat!

For more info check: www.this-is-beat.it
Tracklist
01. AD Bourke Vs. Costa – Ominide
02. A N.I.Q. Join – Campioni Gorilla
03. Morpheground – Where AM I?
04. Digi G'Alessio – Oh Yes I'M A Lonely Man
05. Hellomynamesisra – I Ree
06. Manuele Atzeni – Bum! Clack!
07. Colossius – Kentacky
08. Bainmass – Old Stuff
09. DJ 2Phast – Cluedo
10. Master Of Ribongia – Sunny Good Times
11. Grillo – Tasty Satellites
12. Kappah – 52
13. Railster – Andromeda
14. Bass Science – Wax Slash
15. Fintess Bitch – Singery
16. Container – Quack Methods
Posted by dOk | Filed under 2011
New stuff from Suff Daddy! Everyone has their own passion… Suff Daddy is pretty clear.
Tracklist
01. Kicks
02. High Adventures
03. The Big Hit
04. Splim
05. On&On&On